New Features & Enhancements
Orchestrator
New UI and Dashboard
Introducing a new sleeker and friendlier user interface for the entire web application.
The home page, Dashboard, displays usage information about all resources (robots, processes, environments, jobs, transactions). The UI has been revamped to improve usability. Navigating from one page to another is faster, as the frontend was rewritten in AngularJS 2.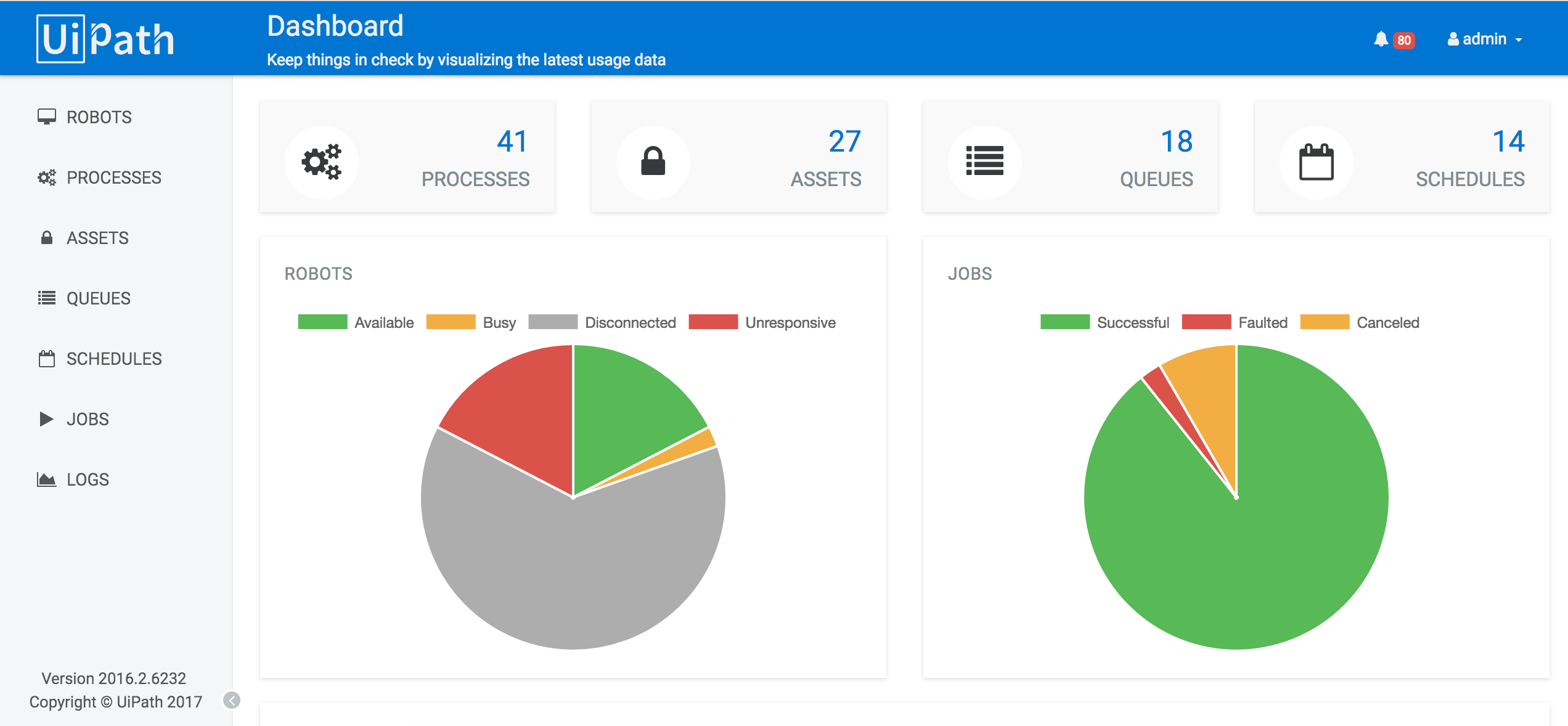 Roles and User Management
You can now create your own custom roles and manage permissions in order to facilitate custom authorization for any Orchestrator component.
You can manually add local users and import users from Active Directory groups in the newly-added page, Users. The default roles are Administrator and Robot, which cannot be changed or removed.
Jobs
Maximized robot utilization is now possible due to the job queue enhancement. If you start multiple jobs on the same Robot, they are placed in a queue, in a pending state, and are going to be executed one after the other.
Information about past executions can be found on the Jobs page.
Scheduling
Greater flexibility and control are possible by enabling, disabling and editing schedules, which you can now also set for specific Robots, either a custom number or all of them.
Scheduled jobs can be stopped after a specified amount of time, custom cron expressions are supported and queuing jobs on the same Robot are also available from the scheduler.
Time zone support has been implemented and can be configured per tenant. By default, this is set to UTC.
Queues
A date priority can be set to queue items, to ensure SLA, by defining a time frame when transactions must be processed. To this regard, the Add Queue Item activity has two new properties, DueDate and DeferDate.
We also improved human-robot interoperability by allowing human users to analyze items that have failed with an application exception. To support this, Review Statuses (In Review or Mark as Verified) have been implemented giving you the possibility to process failed items manually if necessary.
Audit
The auditing trail has been enhanced in terms of information offered and usability, so that you can better track when users create, update or delete Orchestrator entities (robots, assets, queues, environments etc.).
To ensure consistency, the Events page that contained some of this information has been renamed to Audit.
Alerts
A live notification system ensures you are always instantly informed of any issues that might appear inside the automated business process.
Alerts are generated for Robots, Queue Items that fail with a business or application exception, Jobs that change status, or Schedules that misfire.
To support this an Alerts page has been created to enable you to always be up to date with what is happening in Orchestrator.
Email alerts can be set up for Fatal and Error messages by configuring the email settings on the Settings page.
Processes
To ensure consistency throughout Studio and Orchestrator, the concept of "Releases" has been deprecated. As a result, projects published to Orchestrator are consolidated into a package. Assigning a package to an environment creates a process.
For cases in which a connection with Studio is not available, you can manually upload packages to Orchestrator, from the Packages page.
Logging
Logging is more customizable and extensible. It supports by default two targets: a SQL database and ElasticSearch, but other targets can be added if required.
Multi-tenant
Multi-tenant support is available and facilitates automating different departments from your company, ensuring the desired separation of Orchestrator data per department.
This feature enables you to define a custom number of tenants and isolates all data and resources (logs, reports etc.) from each of the created tenants, with only one instance of Orchestrator.
Tenancy name, besides username and password, is required when logging in if multi-tenancy is enabled.
This feature is experimental and is not enabled by default.
Robot
For this release, our focus was on performance and reliability resulting in a highly improved Robot component.
High-Density
You can now achieve increased productivity with fewer resources.
The High-Density Robots feature enables you to utilize each machine at your disposal at its maximum potential, and improves the way different automation teams within the same company collaborate. Run multiple processes on multiple Robots on the same machine at the same time, each under a different user account.
Note: For High-Density Robots to work, set the LoginToConsole parameter to false, in the UiPath.settings file from the %ProgramData%\UiPath folder, for each Robot.
Cognitive and Natural Language Processing
A new activities pack, Cognitive, is now available and contains the following activities: Google Text Translate, Google Text Analysis, IBM Watson Text Analysis and Microsoft Text Analysis.
Google Text Translate enables you to translate text from one language to another. The Google Text Analysis, IBM Watson Text Analysis and Microsoft Text Analysis activities help extract the overall sentiment of a document, can provide a syntactic analysis of sentences, indicate key phrases and recognize the language it was written in.
Image Automation
Computer vision is enhanced to be independent of scaling and HIDPI displays. This allows for more portability, flexibility and development speed when dealing with image automation.
UI Automation
Anchor-based automation (identifying controls based on nearby fixed elements) can now handle dynamic forms better. This means that, with the Anchor Base activity, you can automate certain fields although their position on the screen or within the application changes, by looking for a fixed element, such as the label. Try it out in the Automation Challenge.
Firefox is supported once more for all UI automation features.
OCR
OCR accuracy and reliability have been improved. A new property, Profile, has been added to all OCR engines, which applies different preprocessing methods to a specified image. As a result, more accurate data can be extracted from scanned documents and on-screen images.
To offer more flexibility, support for the following OCR engines is now available: Microsoft Cloud, Google Cloud, Abbyy, and Abbyy Cloud. The cloud versions are generally more advanced, yet how fast you receive the results depends on your Internet speed and you usually require an API key.
Studio
Data Scraping
The web scraping functionality has been extended to also extract structured data from documents and applications. To support this, the Web Scraping button in the Design tab has been renamed to Data Scraping.
Debugging
We improved the usability for the debugging panel. A floating panel called Locals appears next to the Output panel in debug mode.
Removing all breakpoints from a project is now possible with a click of a button.
Interface and Usability
The interface and performance of the UiExplorer have been improved.
The new Package Manager allows for the management and configuration of package sources; adding and updating all activities can be done with one click.
Productivity
Various changes that facilitate productivity including:
Keyboard shortcuts for most commands are available and are displayed in tooltips
Double-clicking an activity in the Activities panel adds it in your workflow
New layout for all Workflow Designer panels
Surrounding an activity with Try Catch from the context menu
Drag a file from the Project panel to automatically invoke it
Integration with Subversion (SVN)
The Device ID is now displayed in the License renewal wizard
Activities
Text Exists and OCR Text Exists are two new activities that can be used in the Retry Scope, as conditions for repeating a custom sequence. This means that as long as a specified string can be identified in the indicated UI element, you can perform a custom set of tasks. These activities have been added to the Core pack.
To support new Orchestrator features, by enabling you to define a timeframe when transactions must be processed, a new activity, Postpone Transaction Item, has been added to the Core activities pack.
A property, Output, has been added to the Set Transaction Status activity that enables you to write specific information in queue items, only after they are successfully processed.
The Add Queue Item activity has two new fields, DueDate and DeferDate. These help you add a timeframe between which the items should be processed, and create an additional priority level.
To help you create data tables from scratch, the Generate Data Table activity has been added to the Core pack. A wizard is also available that enables you to input data and choose your preferred formatting options.
The Framework and Platform packages have been deprecated, and the activities they contained have been moved into the Core pack. As a result, the namespace used with queue item variable type changed, from UiPath.Enterprise.Activities.Queues.QueueItem to UiPath.Core.QueueItem, and the exception thrown by business exceptions is UiPath.Core.BusinessRuleException.
The Report System Error activity has been deprecated.
Sample activities packs have been made open-source. Feel free to collaborate on our GitHub repositories.
Bug Fixes
Orchestrator
Monitoring
The Robot status was not always accurate in Orchestrator, as the SignalR channel sometimes did not work properly. Now, this issue no longer exists as the Robot status is requested through Heartbeat.
Queues
In some cases, the Get Transaction activity returned null values, although there were items in the queue.
If all queue items had the same priority, the first item from a queue was processed last.
Assets
Fixed an issue that prevented the Robot credentials from being properly updated.
The value of boolean assets was not properly saved.
Assets with names longer than 92 characters could not be deleted.
Jobs
It was possible to start a job on a release, although you deleted the assigned package from the disk.
Robot & Studio
In some cases, Studio stopped responding when you downloaded an activities package.
In some cases, the Robot crashed if Microsoft OCR Engine was executed in a loop.
The Find OCR Text Position activity with Microsoft OCR Engine did not work with text containing multiple words.
If you started a job from Orchestrator on a machine with two users that were logged in but only one active, the user that had the active session was logged off.
If the machine is connected to Orchestrator and UiPath Robot is installed as a Windows Service but not running, you can no longer execute processes from Studio.
Breaking Changes
Please note that UiPath 2016.2 is not compatible with UiPath Control Center (BOS) or UiPath Front Office Server (FOS). We strongly recommend to updating to the 2016.2 Orchestrator version.
The v2016.2 Get Transaction Item activity throws an exception if it is used with Orchestrator v2016.1 and there are no more items in the queue with the New status. It is recommended that you use it with a Try Catch activity.
Activities
The Find OCR Text activity returns incorrect coordinates when used with the Microsoft engine.
Image activities throw the following error: "The type initializer for 'Emgu.CV.CvInvoke" when used on machines without the KB2533623 Windows 7 update.
In some VDIs (Virtual Desktop Infrastructures), the startup time for Studio is slower.
Schedules
Scheduled jobs may rarely fail on a Robot with the following error: "Robot already running for user." This happens only when multiple schedules are set to start on the same Robot at the same time.
Schedule functionality does not work properly in clustering mode.
If you created a schedule on a specific Robot and then remove the Robot from the environment it was part of, the schedule is still triggered.
Robot
If the UiPath Robot service is stopped and the Robot is deleted from Orchestrator, all the packages are visible in the Robot tray. Starting the service solves this issue.
In rare cases, jobs executed on a High-Density environment with multiple Robots cannot read the assigned package and fail with the following error: "Value cannot be null. Parameter name: value."
High Density
The error "Desktop has been disconnected while performing UI actions" is thrown if the execution session is created by a user and not by the Robot itself. This applies only to RDP sessions for both the user and the Robot.
The error "Resources in use" can appear on a Windows Server machine when the Robot is connected to the console session and a user interferes with its execution. When this error occurs, you have to connect to the Robot machine and close the session from the task manager.
The error "Executor start process failed, reason: A specified logon session does not exist. It may already have been terminated." may very rarely be thrown. When it occurs, you must restart the machine.
---